We are one of the few Social Media Agencies in Jaipur that can build brand value from scratch, make long-lasting, fruitful connections with consumers, branding agency in jaipur and help turn them into paying customers. In addition to this, our well-written content strategies help make sure that our followers are highly engaged and that they stick around. We are Provide Best Social Media Marketing Services in Jaipur. social media marketing agency near me
SMM
Social media marketing is a cheap way to get people to know about your brand by figuring out who your target audience is and interacting with them. It can also help you make more sales. We help you reach your business goals by using social media channels like Facebook, Instagram, Twitter, LinkedIn, YouTube, etc.
In the business world of today, social media is the key to success. Every brand needs to use it to reach more customers and make more people aware of the brand, among other things. We try to market your products or services well by keeping a brand image that people can relate to. This shows that you can keep up with trends and helps you get close to your audience, which makes you socially sound. Social Media Marketing Services in Jaipur. branding agency in jaipur
WHAT WE OFFER (Social Media Marketing Services in Jaipur)
CHANNELIZATION
Creating a social media profile on any social media channel or just one social platform won't help. We do a lot of research on your business and help you choose the right platform to get the most business results and audience engagement.
BRANDING
Social media is getting so much content that it can't keep up. Our goal is to help your business stand out, give it a clear voice, and help that voice cut through the noise to become a well-known brand. Make sure that your brand doesn't get lost and that social media helps it.
STORYTELLING
Using craft storytelling, which tells the story of how a brand has changed people's lives and brought them to the forefront of your business, is a great way to market your business. Connecting with your audience is the key to building loyalty and getting people to come back to your brand.
OBJECTIVES
As one of the best Social Media Marketing Agencies in Jaipur, we know that a business doesn't just use social media to connect with people or have fun. Branding, storytelling, and channelling are all things that our brand does to help the ventures reach their goals. One of our strengths is that we can get a lot of sales through social channels.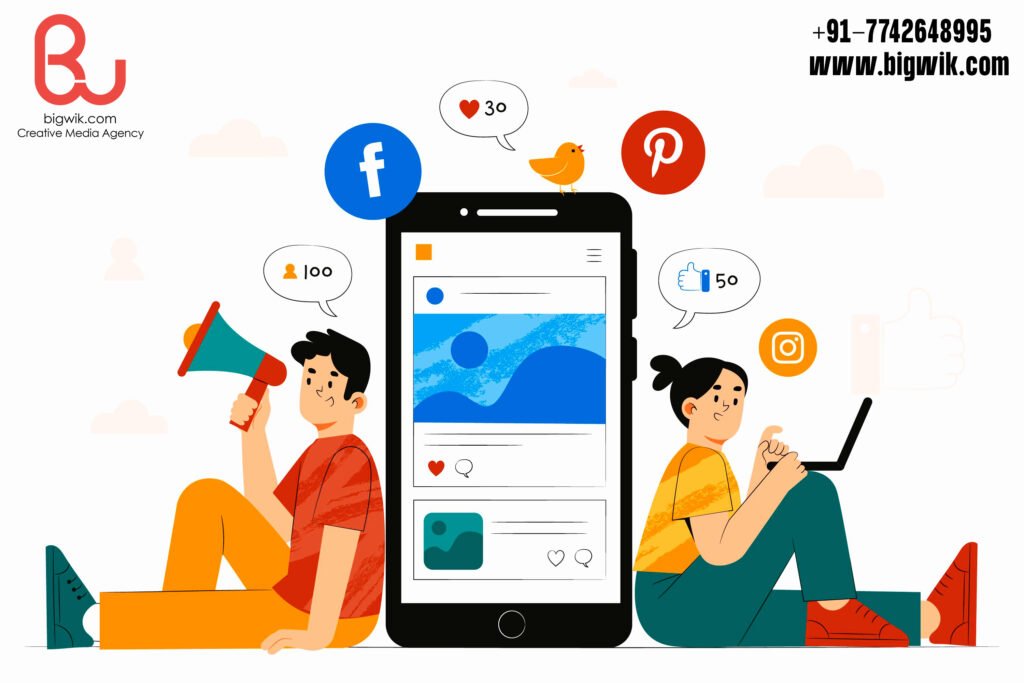 How Can Social Media Optimization Help My Brand?
The majority of people today are very active on social media sites. Social Media Optimization makes sure that engagement rates with a brand go through the roof. This kind of marketing push makes your brand more visible online and gives it a strong online presence. Bigwik, the best Social Media Marketing Agency in Jaipur, does this well.
How Can Bigwik SMM Services Get My Brand Trending?
Our social media marketing services take care of branding from all angles. This includes using trending graphic formats, newsjacking, the look and feel of the brand, and the tone of the brand message. This is also supported by online reputation management, more organic traffic, campaigns that break new ground, and the best ways to use social media. Empathy is the most important thing to us. It is the driving force behind all of our communications because it helps us make real connections.